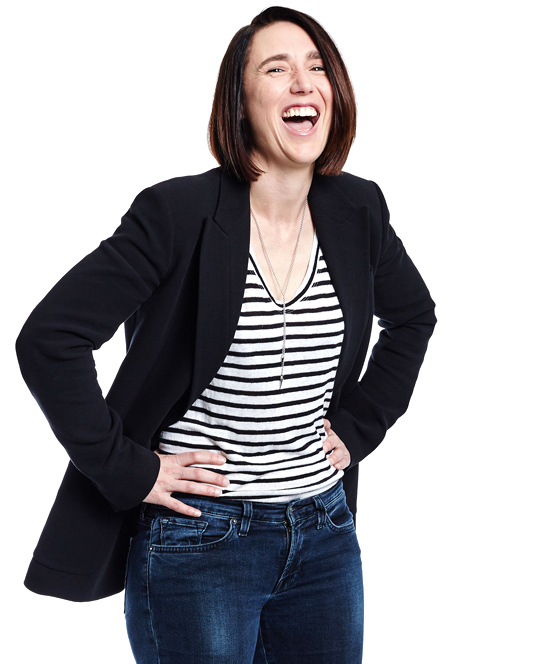 Katja Forbes is an Australian pioneer in the field of experience design and all of its components – research, emerging technology as well as service design, customer experience (CX) and user experience (UX).

She is the Managing Director of Designit, Australia & New Zealand, a strategic design firm who work with ambitious brands to create high-impact products, services, systems and spaces – that people love. Katja is proud to be an International Director on the Global Board of the Interaction Design Association (IxDA).

Back in 2014, Katja founded syfte, a specialist business in research and experience design. In late 2018, her business was acquired by the international firm Wipro, and she was announced as 'Managing Director of Australia & New Zealand' for Designit, Wipro's strategic design arm. Katja was also a co-founding member of IxDA Sydney. Together with Joe Ortenzi, she has built a community of over 2000 designers in Sydney, providing them with learning opportunities via lecture based meetups that draw a crowd of 150 people each time, a mentoring program and workshops.

One of Katja's personal motivations is to inspire other women, especially in her industry, to reach toward their definition of professional success. She is a sought-after keynote speaker for various organisations and associations including Interaction Latin America, Design Up (Bangalore). Women In Design, Leaders in Heels, Women In Commerce, Code like a Girl (Melbourne Knowledge week), Inaugural CMO Conference 2017, Telstra and Macquarie Bank. Katja was recognised as one of the Top 10 Australian Women Entrepreneurs 2018 by My Entrepreneur Magazine and named one of the 100 Women of Influence by Westpac and the Australian Financial Review in 2016.

Katja is also a published contributing author, and regular national media commentator for her industry. Having overcome seemingly insurmountable obstacles, Katja's vision and determination has seen her become an exceptional thought leader and inspiration to countless women across the world.
ACHIEVEMENTS
IxDA
IxDA is a global network dedicated to the professional practice of Interaction Design. With the help of more than 90,000 members of the community since 2003, the IxDA network provides an online forum for the discussion of interaction design issues and other opportunities and platforms for people who are passionate about interaction design to gather and advance the discipline.
As local leader I plan and facilitate all the events run by the Sydney chapter of IxDA with the Steering Committee.
This is a wonderful volunteer role.
Guest Lecturer & Studio Tutor
University of Sydney
As a guest lecturer and studio tutor in the USyd design lab, I supervise students undertaking a Bachelor of Design Computing and help guide their individual projects. I also teach design thinking, usability testing, inclusive design and other user experience techniques to students of Architecture and Design Computing at both Undergraduate and Post-Graduate level.
100 Women of Influence 2016
Australian Financial Review/Westpac
The Australian Financial Review and Westpac 100 Women of Influence Awards is committed to increasing the visibility of women's leadership in Australia, highlighting the important contribution women make in creating a bold and diverse future for Australia.
We want to uncover and promote Australian women who have dedicated their time and energy to help and encourage other women in their industry, and who are fighting for change every day – be it in their workplace, their community or among their peers.
These are women who confront unfairness and don't take no for an answer; who identify what needs to be done then roll up their sleeves to do it, and who use their skills and ability to help change the status quo to a more equal, more diverse, and vibrant society.
Keynote
Customer Connectivity
Momentum Conference July 2017
Speaker
Aquent Digitalks
September 2016
Speaker
Code Like a Girl
Melbourne Knowledge Week 2016
Speaker
Women in Commerce
Macquarie Bank April 2016
Speaker & Mentor
Remarkable.org.au
2016
Speaker
Future Assembly
November 2015
Speaker & Expert Panellist
Design Led Tuesdays, UNSW
September 2015
Speaker
Women in Design, Design Tasmania
July 2015
Speaker
Leaders in Heels
June 2015
Expert Panellist
Internet of Things and Digital Auras
Linked Festival 2015
Expert Panellist
Accessible Mobile App Challenge
ACCAN & Australian Human Rights Council
"Apps for all"​ 2014
Speaker
Ignite Digital 2014
Speaker
Ambient Intelligence
UX Australia 2014
Speaker
Universal Design for Touch
UX Australia 2013
Speaker
Designing for Diversity and Inclusive Mobile Experience
Designing for Mobility 2013
Speaker
Accessible Mobile Experiences
2011 OZeWAI Conference
Contributor to W3C WAI Mobile Accessibility Initiative
Author of Inclusive Mobile Experiences: Beyond Guidelines & Standards